Frequently Asked Questions
Having a fast, reliable connection in your home and at your business is essential. Comcast delivers the best in Internet, TV, Voice, Mobile, Home Management and Business Solutions all working together to give instant access and connect you to the experiences that matter most – anywhere, anytime.
For town specific updates in Gypsum click here.
For town specific updates in Eagle click here.
To learn more about Comcast's residential products and services, visit https://corporate.comcast.com/company/xfinity

To learn about Comcast Business' products and services, visit https://corporate.comcast.com/company/comcast-business or to contact a local Comcast Business representative click here.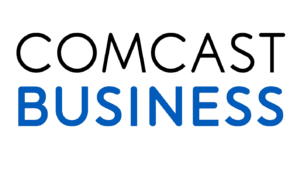 Q: What is coming to the Towns of Gypsum and Eagle?
A: Comcast is building a state-of-the-art network in the Towns of Gypsum and Eagle, delivering our full suite of broadband, video, voice, home management, and business products and services to the residents and businesses of Gypsum and Eagle.
Residents' homes will have access to gigabit speeds, wall-to-wall WiFi – personalized with tools and controls – a dedicated privacy center and enough capacity to stay ahead of tomorrow's innovations.
Local businesses will be powered by the nation's largest gig-speed network and backed by 24/7 customer support. Comcast Business provides companies with the solutions they need to make their business more productive and make business boom.
Q: What is the benefit of Comcast?
A: Comcast is a media and technology company that creates innovative technology and entertainment, connecting millions of people to the moments and experiences that matter most.
Comcast has invested billions of dollars in our network across Colorado, which has led to a wide-range of next-gen products and services for local customers that includes the X1 platform, new On Demand and TV Everywhere capabilities, faster wired and wireless Internet speeds, advanced services for businesses, and smart home solutions. We'll continue to invest in our network and services to ensure residents have access to the most innovative video, broadband, security, home and voice products available.
Technology is at the core of what we do. We have fiber at the core of our network – and have for the past decade – and we have been extending it deeper into neighborhoods and closer to homes. We're driving the industry with our major technology partners to redefine the technologies that you use to enjoy entertainment, connect and communicate now and into the future.  Our network uses the industry's most advanced optics/lasers and IP routing technologies.
We double the capacity of our network about every 18 months and regularly increase speeds to accommodate the future of technology.
Q: Will Comcast offer options for low-income people?  
Yes. This expansion provides low-income families and individuals with access to Comcast's Internet Essentials program, the nation's largest and most successful broadband adoption initiative. Since 2011, Internet Essentials has connected more than 300,000 low-income Coloradans to the power of the internet at home, many for the first time.
And, as a way to help deal with the challenges of COVID-19, Comcast is offering eligible new customers 60 days of Internet Essentials service without charge until the end of 2020. All Gypsum and Eagle families and individuals eligible for this program will qualify for this 60 day free offer. 
Q: What is the timeline for the project? 
A: Beginning in late March 2020, an 18-month phased engineering and construction project will bring a fiber optic network into Gypsum and Eagle. This investment will create a new set of broadband, video, and voice options, vastly expand broadband capacity, speed, and reliability, support households with a growing number of connected devices, and create an expansive set of options for the residents and local businesses of Gypsum and Eagle.
Town-wide in scope, the project involves a combination of construction in the public right-of-way and easements, installation of new equipment, and connection of the network architecture.
Residents will begin to see this work occurring in the Town of Gypsum in late March, and the construction will move from neighborhood to neighborhood until the full build is complete across Gypsum and Eagle.
We're targeting to have services available in our initial build areas in June 2020. We will provide regular updates as the project progresses. For a more detailed update on progress please visit our webpages dedicated to our expansion plans in Eagle here and Gypsum here.
Q: How and when will I be notified when work is being done near my home? 
A: Comcast recognizes that construction work can be disruptive, and we want to do all we can to ensure residents are well-informed and prepared. We will provide multiple notifications to residents and businesses in advance of any construction impacting their neighborhood or commercial areas.
We will communicate directly with residents through door hangers, mailings, and door-to-door outreach. We're also working closely with each of the Towns, as well as the local Homeowners Associations to provide updates as they are available.
When the build reaches your neighborhood, it will largely proceed as follows:
NOTIFICATION: Roughly 1-2 days before the construction preparatory work begins in your neighborhood, you will receive a door hanger notifying you that that work is within days of starting.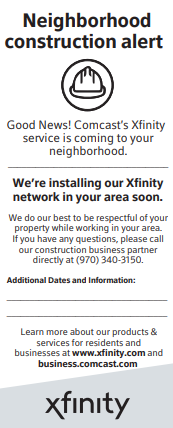 LOCATE WORK: Following the door hanger notifications, Comcast's construction business partner, SEFNCO, will begin to do the preparatory work to locate existing infrastructure in your neighborhood's public right-of-way and utility easements. Crews will mark the ground with locate flags and paint to indicate where infrastructure currently exists so that the new construction does not disturb or damage existing lines.
CONSTRUCTION BEGINS: Within roughly 5-7 days after the locate work, SEFNCO will begin to install conduit, fiber, and coax lines into your neighborhood. The majority of Comcast's construction work will occur in public rights-of-way and easements.
On the very limited occasions where Comcast may need to access public easements located on private property, a construction contractor will contact residents directly to notify them before initiating any work.  Pursuant to town code related to easement access, if contact is not made, Comcast's construction partners may still enter the property to conduct the work on public easements. Notification of entry will be provided.
POTENTIAL CONSTRUCTION DELAYS: As with all construction projects, unknowns can present themselves and cause a delay in the scheduled time of the work. These include but are not limited to inclement weather, incorrectly identified buried cables/pipes, access issues, etc. If schedules change, Comcast and SEFNCO will do their best to notify you of the change and the new dates.
CONNECTING YOUR NEIGHBORHOOD TO THE NETWORK: Within a few days of the construction work's completion, crews will return to connect the newly installed lines to the broader Comcast network. When this network connection is complete, you will be able to sign up for service and you will recieve a doorhanger that looks like the below images. At this time, you will be able to contact Comcast to set up residential or business services and our team will work with you to install services at your address.
INSTALLATION: Once you've reached out to request service, we'll set up an appointment for installation. During the installation appointment, a Comcast technician will come to your address to establish a direct, wired connection to your home or business and help you get your services up and running. At this point, you're officially a Comcast customer!
Please note – The technician will install a temporary line to get you connected. This line will be above ground for a short period. Within 1-2 weeks of this installation, a crew will come to your address to permanently bury the line underground.
Q: What can I do during this construction process? 
Watch for the notifications. It is easy to dismiss a mailer, door hanger or phone call as spam.
Keep your pets in your house. If access is needed to your backyard, please make sure your pets are safe and secure during the window provided by Comcast.
Be patient. Comcast is building a new, state-of-the-art network across the entire community and bringing the full suite of their services to Gypsum and Eagle. Comcast and SEFNCO are working to complete this work as quickly and efficiently as possible.
Be aware of construction workers. All construction workers and people placing door hanger messages will be wearing a safety vest and a badge that will identify them as a Comcast employee or an authorized Comcast contractor. Below are some example images of what the SEFNCO vehicles will look like.
Q: Will this work be disruptive? What can people expect in terms of construction?
A: We have a lot of experience doing this sort of work and try to ensure minimal disruption to our communities and customers. While this plan does involve digging and will result in our technicians conducting work in easements or a public right-of-way, we will work to provide considerable information and minimize impact.
Q: Why is there a telecom pedestal in my yard?  
In order to provide Comcast service in your community, our team needs to place above ground connection points that link to underground fiber lines. These connection points are pedestals or peds, which are generally light green metal or plastic housing that encloses and secures the network connections.  
Peds serve specific network engineering needs, particularly in mountain towns. Their above ground design and placement provides a more secure connection space and avoids service-impacting damage from water and ice. Above ground peds are also much easier and faster to service in the event of a network issue or outage. 
To ensure the highest quality connection, peds need to maintain a relatively close distance to the associated home or business. The combination of these factors – in addition to staying in the public right-of-way or utility easements – creates some critical limitations on where peds can be placed.  
Comcast and SEFNCO are working in collaboration with the Town's Public Works Department to minimize the number of pedestals in each neighborhood, to the extent possible, and place them in the least obtrusive locations. 
Q: Who can I contact with questions or specific concerns? 
A large portion of the work will be done by SEFNCO Communications, which is an approved, long-term partner of Comcast specialized in building complex networks and infrastructures. You can visit their website here: http://sefnco.com/. You can reach the team working on this project directly at (970) 340-3150.
If you're interested in speaking with someone about our products and services please visit one of our nearby Xfinity Stores:
Avon Xfinity Store – 281 Metcalf Rd, Unit 210
Glenwood Springs Xfinity Store – 1605 Grand Avenue, Suite I