CONSTRUCTION OVERVIEW
As this project progresses, we want to ensure residents are well-informed and prepared. Multiple notifications via door hangers to residents and businesses will be provided in advance of any work impacting your neighborhood.
When the build reaches your neighborhood, it will largely proceed as follows. The colors correspond with phases in the interactive map above.
 RED = Construction work has not yet begun in your area, prior work has yet to resume, or prior work was stopped due to inclement weather. Please check the Weekly Updates section for the latest information on the location of construction work.

 ORANGE = This phase is when locate work and underground construction work are underway.
During the locate work to identify underground utilities, Comcast's construction business partner (SEFNCO) will submit the appropriate requests via 811 to require utility owners to locate their infrastructure in your neighborhood's public right-of-way and utility easements. Separate crews from the appropriate utilities will mark the ground with locate flags and paint to indicate where infrastructure currently exists so the new construction does not disturb or damage existing lines.
The markings consist of different colors to reflect each type of infrastructure in a certain area (see below chart). It is essential for the utility crews to request locates, as required by 811, be performed to ensure the utility owners identify their plant prior to any work being done and the construction crews can operate as safely as possible.
The locate marking colors correspond to utilities as follows in accordance with the Colorado 811 safe dig practices: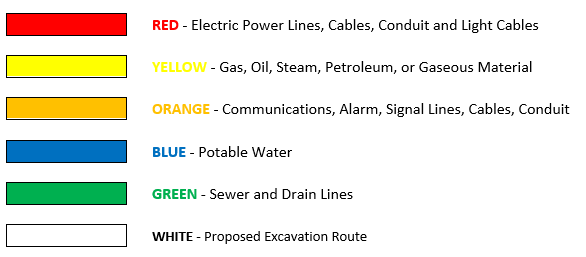 Roughly 1-2 days before this locate preparatory work begins in your neighborhood, you will receive a door hanger notifying you that work is within days of starting. Keep an eye out for a door hanger that looks like the following image: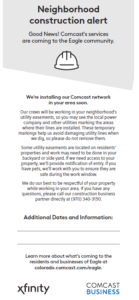 *NOTE – Utility owners of systems like irrigation and sprinkler lines are required by law to sign up with Colorado 811 and mark utilities within 72 hours of locate ticket submittal. This also applies to irrigation lines in town right of ways. This does not apply to individual homeowners.
Within roughly 5-7 days after the locate work, SEFNCO will begin to install conduit, fiber, and coax lines into your neighborhood. The majority of the construction work will occur in public rights-of-way and easements. You will receive another door hanger roughly 1-2 days before the construction work begins in your neighborhood. Keep an eye out for a door hanger that looks like the following image:
On the very limited occasions where Comcast may need to access public easements located on private property, a construction contractor will contact residents directly to notify them before initiating any work.  Pursuant to the Town Code related to easement access, if contact is not made, Comcast's construction partners may still enter the property to conduct the work on public easements. Notification of entry will be provided.

 BLUE = Within a few days of the construction work's completion, crews will return to connect the newly installed lines to the broader Comcast network. This phase of work includes placing pedestals, pulling fiber through placed conduit and connecting new lines to the network. This phase could involve some locate work related to pedestal placements.
As with all construction projects, unknowns can present themselves and cause a delay in the scheduled time of the work. These include but are not limited to inclement weather, incorrectly identified buried cables/pipes, access issues, etc. If schedules change, Comcast and SEFNCO will do their best to notify you of the change and the new dates.

 GREEN = Work and restoration is complete. Residents' homes and businesses are now serviceable (ready to sign up for Xfinity or Comcast Business). Once the network connection is complete, you will be able to sign up for service and you will receive a doorhanger that looks like the following image: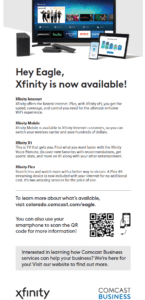 At this time, residential customers will need to contact Xfinity by phone at 1-800-XFINITY, visit us online at https://www.xfinity.com/learn/offers?pc=1 or visit a nearby Xfinity store to discuss a plan that works for your home.
If you are a business owner and would like to contact one of our local Comcast Business representatives to begin discussing our products and services, please contact Kari Conley, Kari_Conley@comcast.com, (970) 401-1630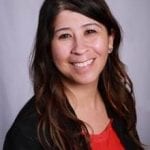 Once you've reached out to request service, we'll set up an appointment for installation. During the installation appointment, a Comcast technician will come to your address to establish a direct, wired connection to your home or business and help you get your services up and running. At this point, you're officially a Comcast customer!
Please note – The technician will install a temporary line to get you connected. This line will initially be above ground, likely through Spring, when ground conditions improve enough to bury the line underground.