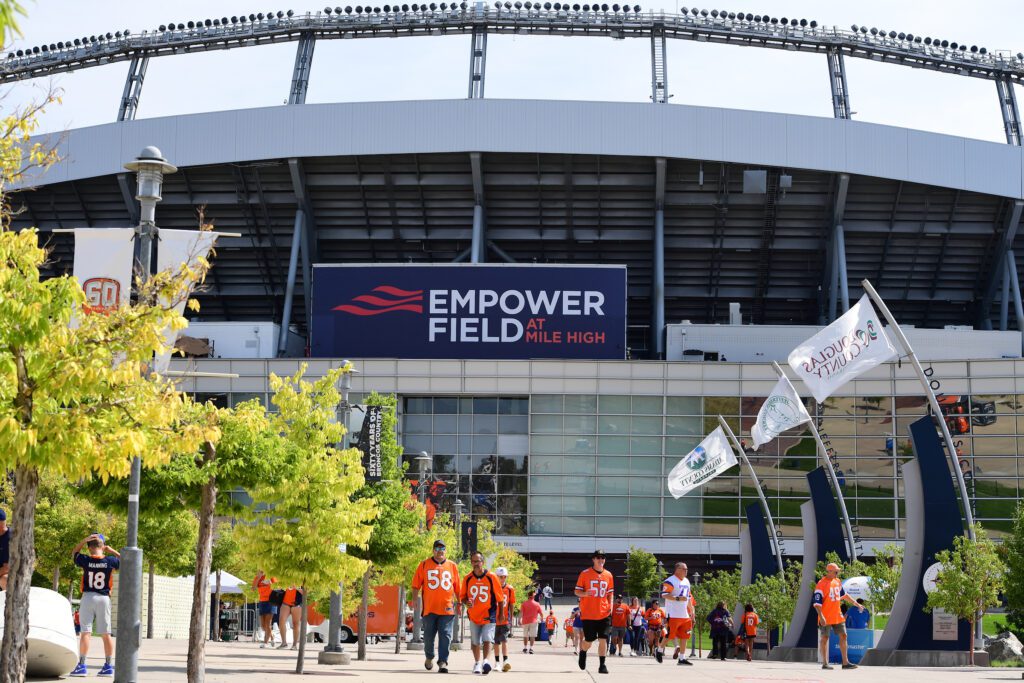 Comcast Business recently announced it is providing the Denver Broncos with a suite of network solutions to help the sports franchise run its operations smoothly – whether it's a game day or a training day – as well as keep fans connected to their favorite technology-enabled applications when they attend a game at Empower Field at Mile High. Whether it's managing the plethora of merchandise sales, replaying nail-biting tackles on stadium screens, or asking Miles, the Broncos' virtual assistant, a question during a game, employees and guests alike can expect reliable experiences backed by Comcast Business.
Technology continues to revolutionize the sports industry, transforming experiences for fans and the operations of teams like the Broncos. Fans now expect real-time viewing experiences – regardless of whether they're in the stadium or watching at home – and are actively participating in gamedays through social media engagement and personalized streaming services. On the backend, technology has ushered in new revenue streams for sports organizations through e-commerce platforms and digital ticketing and point-of-sale applications, and has made it easier to analyze players' performances during training or game days. All these technology-driven offerings require a strong and reliable network backbone to make them a reality.
Solutions provided by Comcast Business include SIP Trunking, between Empower Field at Mile High and the Centura Health Training Center. Additionally, Comcast Business is providing two 10 gig ethernet circuits and Comcast Business Hospitality HD Video for thousands of screens at Empower Field at Mile High.
"When it comes to football, players and fans alike know that every second counts, and the same holds true for the technology within sports facilities – if it isn't fast and reliable, fans and athletes could miss out on exciting experiences," said Robert Thompson, vice president of Comcast Business for Comcast's Mountain West Region. "We are proud to support the Broncos with technology solutions that not only assist the team's employees as they work hard to bring these experiences to the Denver community, but that keep fans connected and engaged with the Broncos."
Comcast Business is the Broncos' main internet provider for employees, players, staff, and media that attend game days. In addition to supporting stadium operations, the 10 gig circuits power the Broncos TV studio to quickly capture and create real-time content – like player interviews, commentator segments, or fan giveaways within the stadium – then broadcast it on TV screens across Empower Field at Mile High. SIP trunking provides reliable phone lines. The strong network backbone created by the combination of these solutions ultimately contributes to a more connected and convenient game day experience for fans, as well as fast, reliable back-end operations for staff.
Between 2008 and today, the Broncos have seen its network of connectivity solutions and devices grow exponentially, going from roughly 400 devices supported on its network to 8,000. Despite this growth, the organization's goal has remained the same – to deliver an uninterrupted technology experience for fans and Broncos staff. By partnering with Comcast Business, the Broncos ensured that its network was flexible, and capable of handling future growth as the sporting industry continues to evolve.
"We need to make sure that our back-end network can provide it all, and Comcast Business has created a runway for us that helps ensure our daily operations will be successful," said Russ Trainor, senior vice president of IT for the Broncos. "We trust Comcast Business to deliver the solutions and support we need every day, not just on game days. And, as we add more services to our existing network, we know Comcast Business will help us deliver them."
In the Denver area, Comcast Business also supports the Colorado Rockies at Coors Field with an enhanced network infrastructure and end-to-end network management solutions. Additionally, in December 2022, Comcast expanded its network throughout the Denver Metro Area, launching an additional multi-gig internet speed tier for Xfinity and Comcast Business customers. The upgrade is delivering download speeds up to two gigabits-per-second and up to 5x to 10x faster upload speeds to customers in select areas.