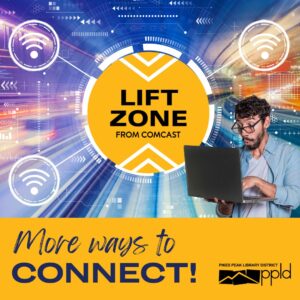 Comcast Lift Zones at four PPLD libraries connect the community to faster, more reliable Internet
Libraries in the Pikes Peak Library District are getting a free wi-fi boost thanks to a partnership with Comcast to establish Comcast Lift Zone connectivity centers at four library locations throughout Colorado Springs.
The libraries are: Library 21c, Penrose, East and Ruth Holley.
Comcast Lift Zones provide an additional free Wi-Fi network to help increase the number of Internet users the Library can support at once, without compromising quality of service.
"Access to high-speed internet and digital skills training is no longer a luxury, but a necessity, making connectivity more important than ever. We are honored to partner with Pikes Peak Library District to ensure more people in the Colorado Springs area have access to fast, reliable, and secure connectivity year-round," said J.D. Keller, Sr. Vice President, Comcast Mountain West Region. "From doing homework, searching for jobs, accessing healthcare services and so much more, partnerships like the one with Pikes Peak Library District are important to make sustainable progress to advancing economic mobility and promoting digital equity in our communities."
Comcast started Lift Zones as part of its ongoing commitment to connect low-income families to the Internet so they can fully participate in educational opportunities and the digital economy.
"Lift Zones at these libraries will be valuable assets for our whole community, especially for people who don't have access to Wi-Fi at home. It will be easier to do things like search and apply for jobs, download documents for work and school, meet virtually, collaborate virtually on large creative projects, or enjoy leisure activities like downloading games or streaming shows," said Lance James, chief development officer and foundation executive officer for the PPLD Foundation.