We are proud to announce that VETS Indexes has recognized Comcast Cable as a 5 Star Employer in the 2023 VETS Indexes Employer Awards. The award is a testament to our company's strong commitment to hiring, retaining, developing, and supporting U.S. military veterans and their families.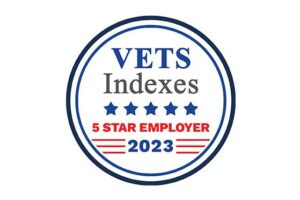 "Comcast Cable stands out from the pack as one of the best employers nationwide for veterans, members of the National Guard and Reserves, and military spouses," said George Altman, managing director of VETS Indexes.
"As more and more employers recognize the cutting-edge technical skills and soft skills veterans bring to the workplace, the race to attract military-connected talent gets increasingly competitive. The number of organizations participating in the 2023 VETS Indexes Employer Awards more than doubled since last year – but even in this highly competitive environment, Comcast Cable distinguished itself as a leader among veteran employers and should be commended," Altman added.
VETS Indexes assesses employers through an in-depth survey, focusing on areas like veteran recruitment, employee development and retention, inclusive policies, support for National Guard and Reserve members, and military family assistance. This is the third consecutive year that Comcast has received the organization's highest distinction, the 5 Star Employer award.
We at Comcast are deeply committed to fostering a diverse and inclusive workplace that embraces the unique talents and experiences of our military-connected teammates," said Mona Dexter, Comcast NBCUniversal's Vice President of Military & Veteran Affairs.
Comcast NBCUniversal has hired more than 20,000 veterans, military spouses, and National Guard and Reserve members since 2015. As part of our ongoing efforts to create a supportive environment for our military teammates, we offer several unique benefits and programs, such as a dedicated Military Concierge service, Guard and Reserve Leave, Differential Pay, and Military Spouse Transfer Assistance. Members of our Veteran-focused Employee Resource Group also benefit from continuous mentorship, professional development, and networking opportunities.
In addition to our status as a VETS Indexes 5 Star Employer for three consecutive years, we have earned numerous accolades for our work with the military community, including being named a Best For Vets Employer by Military Times and a Top 10 Military Friendly® Brand by Victory Media.
Jobseekers can explore opportunities at Comcast Careers, NBCUniversal Careers, and through Comcast NBCUniversal's LinkedIn page.