Sixty-percent of the families we support qualify for financial assistance, and it's important for them, our seniors and students to be able to come to a safe place with structure and an environment where we have trained staff to assist them," noted Theresa Johnson, Chief Operating Officer of the YMCA of the Pikes Peak Region, as she accepted recognition from Comcast and the City of Colorado Springs for the YMCA's commitment to connectivity and bridging the digital divide. 
On Monday, March 20, Comcast and the City of Colorado Springs honored five local community organizations for their commitment to making sure residents of Colorado Springs have access to the internet, devices, education and workforce training they need to be connected securely and reliably with what matters most to them.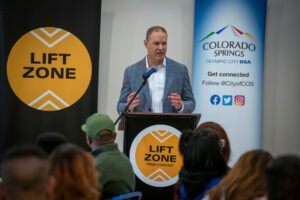 Access to a reliable, secure Internet connection is vital to navigating our increasingly digital world," said J.D. Keller, Sr. Vice President Comcast Mountain West Region. "Our long-standing partnership with the City of Colorado Springs and the community organizations throughout the City ensures more people are connected to what matters most to them."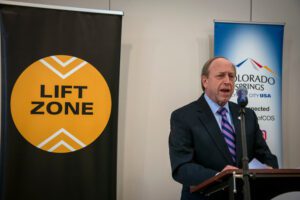 "I'm quite proud of the public-private partnership between the City of Colorado Springs and Comcast that is helping Colorado Springs rise to meet the digital divide that communities are facing," said Colorado Springs Mayor John Suthers. 
Comcast awarded $5,000 each to the following organizations to assist them in ensuring members of our community can access technology and digital skills that will help them benefit today and in the future.  
The City of Colorado Springs and Comcast also presented laptop computers to each of the graduates of the workforce training programs offered by Community Works-Colorado Springs, Heart to Heart Academy-CNA School, and HSD2 Adult Education-a program of Harrison School District 2. 
"Sure, you can have the jobs. But to fill the jobs, we recognize residents need workforce training, career skills, and easier access to the job application process. These things will help them realize an increase of their quality of life," said Mayor Suthers. 
Comcast and the City of Colorado Springs stressed the importance of having access to the Internet along with the tools and information necessary to navigate the digital world to close the opportunity gap many people still face. 
"The days of our kids doing their homework on a phone, driving from Wi-Fi hotspot to Wi-Fi hotspot to do their homework, and find a printer, those days are gone, said Keller. "For more than a decade, we have used our platforms and reach to help bridge the digital divide by connecting more people to the Internet and getting devices into the hands of people who need them.  
Resources for Building Connections in Our Communities: 
Internet Essentials:
Since launching in 2011, Comcast's Internet Essentials program has connected a cumulative total of more than 10 million Americans to the internet at home, including more than half a million here in Colorado – most for the very first time. They gained access to all the opportunities the Internet has to offer – from education and job skills training to healthcare resources. 
Affordable Connectivity Program:
Comcast is proud to participate in the Affordable Connectivity Program (ACP). The ACP is an opportunity for those who qualify to get a $30/mo voucher to get Internet service.   
Comcast Lift Zones:
Comcast has nearly 100 Lift Zones across the state, including more than 10 locations in Colorado Springs, to provide students and families with access to free, high-capacity WiFi. Lift Zones also provide access to hundreds of hours of educational and digital skills content to help families and site coordinators navigate online learning.