In 2021, Comcast's network traffic continued to grow, with entertainment activities like video streaming accounting for 71 percent of downstream traffic.  As network demand evolves, Comcast continues increasing speeds for its most popular Xfinity speed tiers.
Comcast just announced Colorado Springs is the first community in Colorado where the company is beginning to deliver download speeds of 2 Gbps over the connections already existing in homes and businesses today. Once the rollout is complete, these multi-gig speeds will be available in all of Comcast's service area in Colorado Springs, as well as throughout Comcast's entire footprint in Colorado.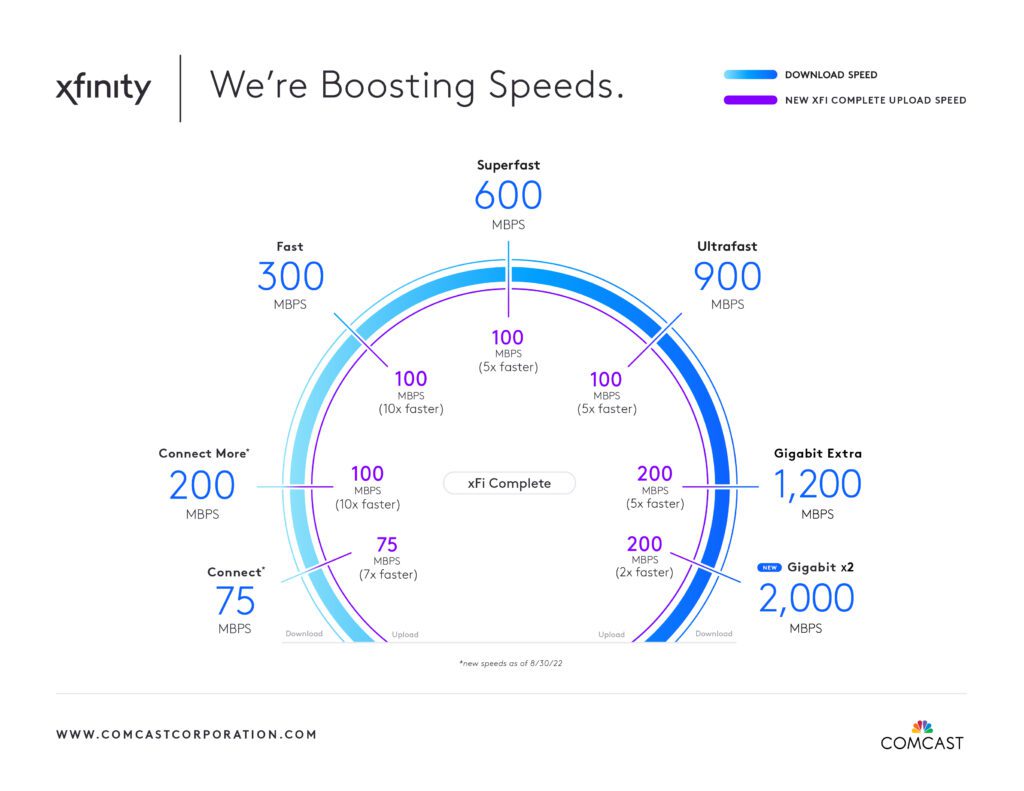 The network updates we've completed to support these new speeds in Colorado Springs today deliver immediate performance benefits to our customers. They also accelerate our work to evolve our entire network to 10G, which will allow us to deliver multigigabit upload and download speeds to tens of millions of Americans over the connections they already have in their homes.
While the last few years have been marked by shifts in internet usage patterns, Comcast's network continued to thrive as overall demand rose to historic levels. In 2021 alone, Comcast invested more than $4.2 billion to strengthen, expand and evolve our network — more than any previous year. This includes over $1.2 billion in the state of Colorado.
By investing in infrastructure upgrades that ensure secure, reliable connectivity for all our residents and businesses, installing free Community WiFi Lift Zones, and supporting Olympic City USA in a variety of ways, Comcast has shown a commitment to Colorado Springs and to ensuring our city is preparing for tomorrow – today," said Colorado Springs Mayor John Suthers.
Additionally, Comcast is introducing faster upload speeds in Colorado Springs to Xfinity Internet customers who choose xFi Complete, and Comcast Business customers will receive up to 10x faster upload speeds than their current levels.  
And, while fast speeds are table stakes, Comcast is regularly introducing new capabilities to help our customers manage their increasingly connected homes.  
Unbeatable Entertainment

: 4K streaming to enjoy content in one place and a voice remote to navigate between them seamlessly. Plus, thousands of hours of free entertainment.

 
Comcast's 10G destination will allow us to scale beyond anything our customers do on the network today, to whatever tomorrow brings. It's powered by our cloud-based, all-digital network, that will allow us to deliver multigigabit symmetrical speeds, coupled with lower latency, energy efficiency, increased security, and improved reliability.
"Our network is made for anything, so you can do anything," said J.D. Keller, Senior Vice President Comcast Mountain West Region.  "During the pandemic, we saw how vital having a fast, reliable Internet connection is for all people, and demand for Internet services continues to increase at a fast pace. My own kids and family are working, learning, chatting, watching movies or playing games on-line whenever we are in the house. I know others have the same experience. Comcast's investments in our network will keep more people in Colorado Springs securely connected and ensure they have the technology today to meet the needs of tomorrow."
More information about the industry's efforts toward a 10G future can be found here. Visit Xfinity or Comcast Business to learn more and sign up for these exciting new products.