Comcast invests in Mt. Carmel Veterans Service Center's expansion to Pueblo and helps launch a local partnership with Care and Share Food Bank for Southern Colorado
Comcast's commitment to military engagement is deeply rooted in our culture, going back decades to our founder, US Navy veteran Ralph Roberts. Today, we celebrate that continued focus by highlighting the establishment of Mt. Carmel Veteran's Service Center's satellite office in Pueblo. To amplify this organization's incredible impact, we're also proud to support a food distribution with Care & Share Food Bank of Southern Colorado.
Since its founding in 2016, Mt. Carmel Veterans Service Center provides transition and employment assistance, behavioral health and wellness, supportive services, connection to community resources, and safe event space for veterans, military members, and their families.
On December 13, 2021, Pueblo leaders gathered at the Center for American Values to celebrate the establishment of Mt. Carmel's new location at St. Mary Corwin Medical Center.
It's never been more true that 'it takes a village' to make enduring and impactful change, and is evident in our teaming with Comcast in bringing critical programs to the Pueblo veteran community," said Mt. Carmel Executive Director Col Bob McLaughlin, US Army (Ret).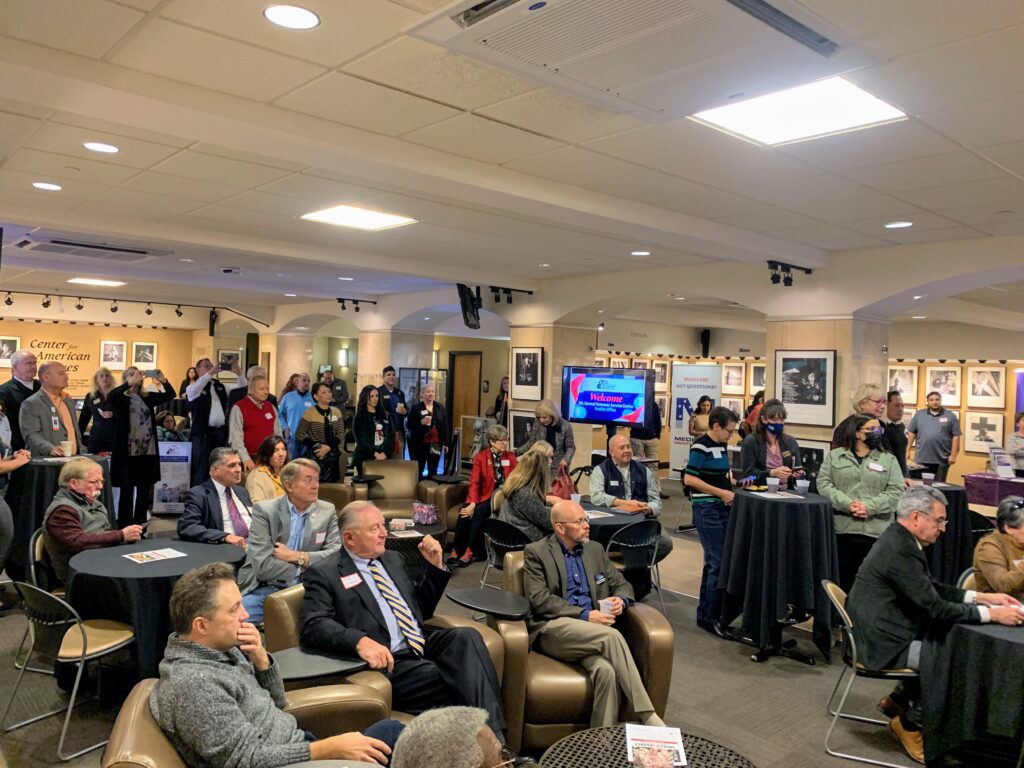 We know the new Mt. Carmel location will be a wonderful addition to the Pueblo community, ensuring veterans across Southern Colorado have access to the resources and support they need. It's a privilege to be a part of this effort," said Nicolas Jimenez, Comcast Director of Government Affairs for the Mountain West Region.
Comcast and Mt. Carmel have partnered since 2019 and, together, have helped military and veteran community members access critical online resources through our Internet Essentials broadband adoption program.
Hear first-hand from the Walker family about how Internet Essentials and Mt. Carmel changed their lives.
Mt. Carmel Veterans Service Center in Colorado Springs is also host to a Comcast Lift Zone which provides much-needed connectivity to clients who come to their facility seeking employment opportunities, wanting to sign up for public benefits, or simply needing to stay in touch with loved ones. Comcast's employee led VetNet employee resource group also partnered with Mt. Carmel to collect donations of professional attire to help fill the organization's "Civvies" closet.
Care and Share Food Bank for Southern Colorado's mission is to ensure that the one in seven Southern Coloradans at risk of hunger have access to healthy and nutritious food. By partnering with 280+ organizations, they serve 31 counties and over 200,000 of our neighbors across southern Colorado. Together with Mt. Carmel, a food distribution event will be held on Wednesday, December 22 at the veteran organization's new office at St. Mary Corwin. Over a hundred military and veteran community members will be able to pickup a basket of grocery staples to ensure they have a happy and healthy holiday season. In addition, Care and Share has established a staples pantry inside Mt. Carmel's office, so that needs can be met on an ongoing basis.
At Comcast, we believe service matters, and we want to continue to work with organizations like Mt. Carmel and Care and Share as they support our heroes.