For Alan Sharp, Comcast Colorado Technical Operations Manager in Grand County, becoming a volunteer firefighter at first was a means to an end. Before long, though, it became a way of life.
In fact, he's been an active member of the Kremmling volunteer fire department longer than his nearly 15-years at Comcast. But that's not the only way Alan gives back to his community, says his manager, Lawrence Stephens, Director, Field Operations.
Alan's community involvement has always been remarkable, whether it be at the volunteer fire department, Comcast Care Day, with employees or a complete stranger," Stephens says. "Most recently, during the East Troublesome fire, Alan had worked all day and was then called in by the fire department for 'structure protection.' Alan worked all night through mid-afternoon the following day on the fire. His service to our company and our community is selfless."
Alan is one of our many community-minded employees who have a selfless approach of giving back to their community, family and work family. Learn more about Alan and his path to becoming a volunteer firefighter in the below Q&A.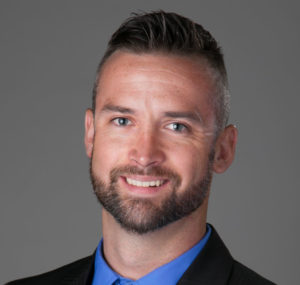 How did you first get involved as a volunteer firefighter?
My mother and stepfather are both retired volunteers from West Douglas County Fire Protection District. So, since I was seven years old, I have been around the volunteer fire service. I first served as a junior member of West Douglas County Fire Protection District when I was 16 or 17 years old. Then in February 2015, I joined the Kremmling Fire Protection District.
What inspired you to do this type of volunteer work?
I didn't grow up thinking I was going to do this kind of volunteer work like my parents. In fact, at the age of 16, I was required by my parents to join the volunteer fire department if I wanted to get my driver's license. They felt that if I saw firsthand what distracted and drunk driving did, I would be less likely to do it. To this day I believe they were absolutely right about that and, who knows, it might have saved my life.
Years later, when I was working at Comcast, one day my supervisor and I were driving back from lunch, when we came across a jackknifed semi and the driver was unconscious. The two of us, with help from off-duty firefighter, pulled the drive out of the truck and started performing CPR until medical services arrived. The man survived, and it was the best feeling – and it was a wakeup call. I understood then why my parents had done fire service for so long. I immediately wanted to volunteer.
Here is a link to a video of the three of us receiving the Life Saver Award for doing CPR.
Are you involved with any other community efforts and/or organizations/nonprofits?
Many years ago, my wife, Tara, started a feed the homeless drive in Kremmling. Before all the major holidays we collect donations of food, drinks, blankets, toiletries and anything else one could use. Then, the Sunday before the holiday, we assemble and bring it all down to Civic Park in downtown Denver.
The other effort that my family is involved in every year is Comcast Cares Day (one of the largest corporate commitments to volunteerism and service in America). My kids are usually asking months in advance, "When's Comcast Cares Day?" It is a great time to give back to our communities, do it with our coworkers and our families, both of which we spend so much of our time. It's great to mix the two.
Can you share your experience as a Comcast employee, volunteer firefighter and community member during the East Troublesome Fire?
I have never been as busy as when the East Troublesome Fire started burning. I was wearing multiple hats: Comcast employee, firefighter, father and husband. My director, Lawrence Stephens, has always been very supportive of my volunteer fire service and when the fire took off and I got paged to respond, he said, as he always does, "We've got you covered, be safe."
Between assignments on the fire, I would have short periods of time where I was in staging waiting for our next assignment. I would use this time to call my family, let them know I was okay, and tell them that I love them. I would also try to provide updates to Lawrence — where I knew the fire could potentially impact our cable system.
Once back from the fire and not sleeping for 36 hours, I tried to call Lawrence and get a few updates to jump back into work, he told me he would only talk to me once he known I'd gotten some sleep first! After I got some rest, he brought me up to speed on how the fire had impacted our cable system.
Tara, my wife, had already booked a flight to go house shopping with her dad in Corpus Christi. And, knowing what my next 96 hours were likely to be, we booked a plane ticket for my daughter, who was going to stay with me, to go with Tara. This allowed me to stay flexible to my two jobs that had become very close.
Over the next three or four days, I ran multiple fire calls for spot fires, new starts, smoke reports and motor vehicle accidents. In between fire calls, I was trying to catch up on time missed at work, drive out Comcast plant damage from the fire and create a plan for restoration.
During all this our community was very supportive. Rolie at the local Family Dollar was rounding up donations of water and Gatorade for the firefighters and many folks were reaching out asking what they could do to assist.
As a firefighter you become a fairly well-known community member, especially in a small town. My community has shown me great support, many times when at the high school football game or something similar, I'll get a fire call, my wife is at a meeting and others that know us will immediately tell me to "Go, we'll watch your daughter. It's the least we can do".
Do you have any words of thanks or appreciation you'd like to share with your fellow volunteer firefighters?
I like many would like to give a big Thank You to all the firefighters who worked during the East Troublesome Fire. As a volunteer, we serve the time we can. We roll on calls when they come in and afterwards, we go back to our normal lives, we go home.
Volunteers leave the dinner table, miss their children's recitals and many other important family events. If they miss time at work, many do not have the great benefits I have with Comcast and will lose pay from lost hours. Inversely, paid firefighters leave home for a shift and commit to not seeing their family for up to 96 hours at a time and someone must be on shift for every holiday. On a deployment to a wildland fire, it can easily be 14 to 17 days away from home and their families. I thank firefighters for their commitment, we often say the bravest thing a firefighter does is sign up; everything after that is part of the job.
How would you describe the Grand County community?
Grand County is a tough and resilient community. Founded by generations of ranchers and having extreme winter weather here in the heart of the Rocky Mountains. Most residents are very self-sufficient and always willing to lend a hand to their neighbor. Most of the towns are quite small yet fill up quickly during their tourist seasons. In the spring, summer and fall there is hunting, hiking, rafting, off-roading and fishing. During the winter months there is, skiing, snowboarding, snowmobiling, tubing and ice fishing.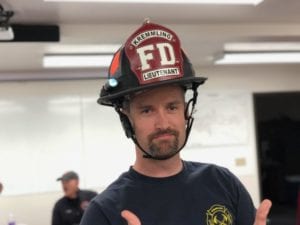 On behalf of the Comcast Colorado team, thank you Alan for your dedication to our Colorado communities.