In 2018, an estimated 23 billion connected devices around the world were connected to the internet. To put that in perspective, that's 127 new devices coming online every second, with many of them connected in the home. And, by 2022, Cisco estimates that there will be more than 13 in-home connected devices per person in North America—that's more than 50 devices for a four-person household! As consumers start adding multiples of the same device to their home Wi-Fi network – like speakers, cameras, thermostats, smartphones and laptops – it's no surprise that the process of naming, managing and personalizing these items could be daunting.
To address this emerging issue, Comcast's Xfinity xFi home Wi-Fi management platform has a feature that automatically imports the names given to devices as they are connected to a customer's home Wi-Fi network.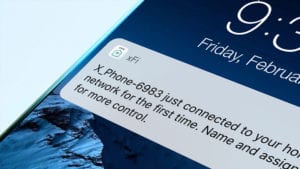 For example, rather than listing the device on xFi with its unfriendly 12-character MAC address, an xFi user will now see the personalized name given to that address during set up, like "Sonos Kitchen" or "Eric's iPad."
From there, Comcast customers can more easily assign devices to an xFi owner or profile. For newly connected devices, the brand, type, and operating system of that device will be imported directly into xFi. Doing so makes it even easier to identify and personalize all household devices. So, when it's time to pause your child's iPad during dinnertime you'll know you're controlling the right one.
And, that's not the only thing xFi can do. xFi has a simple digital dashboard to set up your home Wi-Fi network, find your password, see what devices are connected and troubleshoot issues. You can also use many of xFi's other control features to more easily set up a bedtime rule during school nights, monitor how much time is being spent gaming during the weekend, or quickly connect Grandma's smart phone if she has trouble connecting to Wi-Fi during visits. You can even pause Wi-Fi access during dinner or bedtime.
With xFi, we're giving our customers unprecedented visibility and control over one of the most important technologies in their lives – with the fastest speeds, the best coverage, and ultimate in-home control of all connected devices.
Learn more here.