Giving back and connecting with our communities across Colorado is at the heart of what we do at Comcast NBCUniversal. We're committed to making a lasting impact in the communities we serve. On Friday, May 3 and 4, we had the special opportunity to connect the Colorado Springs community together with two of our partners in particular – Tutt Boys & Girls Club of the Pikes Peak Region and Olympic City USA.
We kicked off the weekend full of activities at the Tutt Boys & Girls Club of the Pikes Peak Region, joined by our Senior Executive Vice President, David L. Cohen and twin sisters, Jocelyne Lamoureux-Davidson and Monique Lamoureux- Morando, two of the leaders of the recent U.S. Olympic Gold Medal Women's Hockey Team. The special guests engaged nearly 100 club members in leadership and athletic development activities, alongside the Club's Youth of the Year, Rebecca Starnes.
Rebecca, who plans to study journalism in college, practiced her interview skills as she hosted a fireside chat with the twins and David L. Cohen about their journeys to success in business and athletics.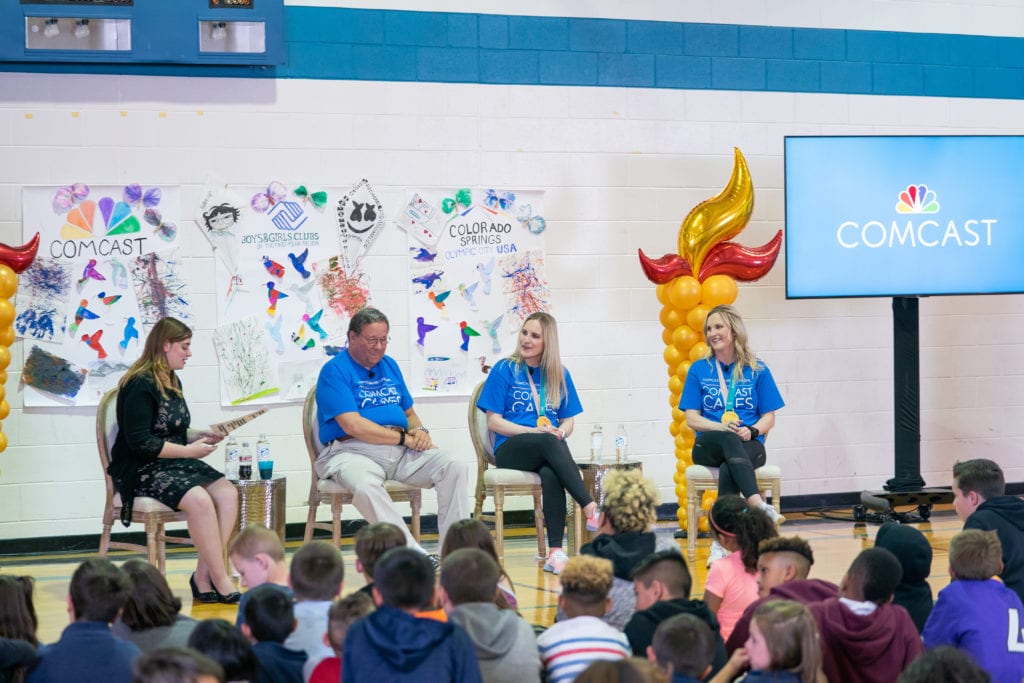 The Lamoureux twins got the Club members up on their feet and walked them through the warm-up exercises they do to mentally and physically prepare for a big game.
At the end of the evening, David L. Cohen and the Lamoureux twins announced a surprise laptop giveaway and yearlong Internet Essentials subscription for each of the attending club members – ensuring they can access the internet and the opportunities it unlocks from anywhere. One of our highest priorities as a company is helping more people participate in the innovation economy, but in order to do that they need the right tools to get them there.
On Saturday, May 4, we officially kicked-off our 18th annual Comcast Cares Day at Hillside Community Center with Mayor Suthers and 150 volunteers who completed a variety of clean-up, beautification, and tree planting projects at Hillside and Memorial Park.
Before the volunteer work commenced, Rich Jennings, Senior Vice President of the Comcast Mountain West Region, presented the city with a $25,000 grant supporting its Olympic City USA youth development initiatives.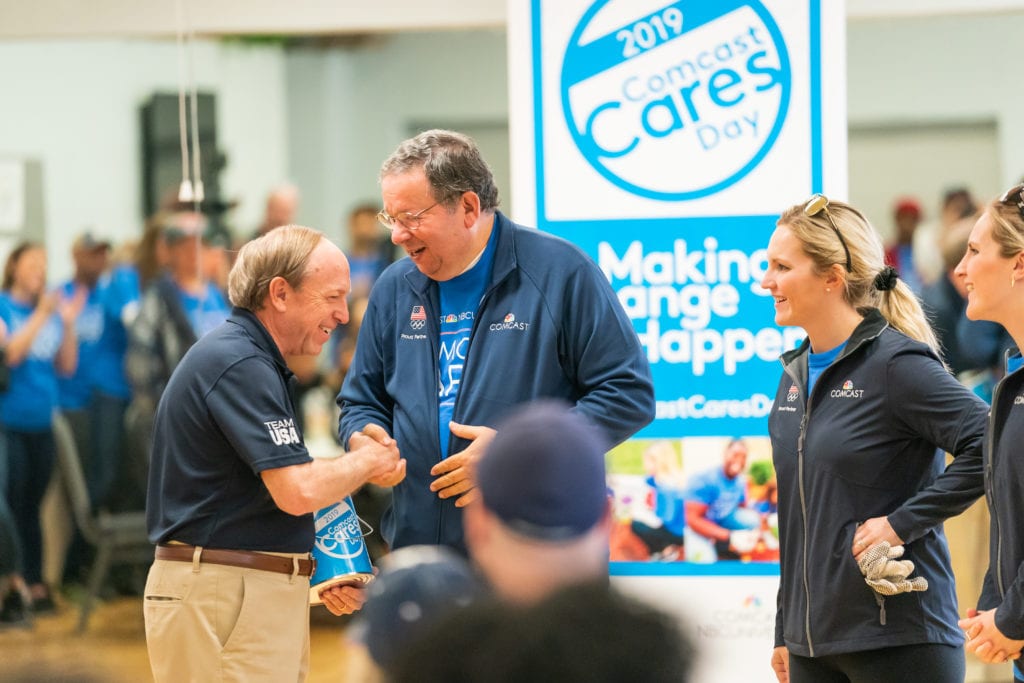 "As we celebrate our 18th annual Comcast Cares Day, we are delighted to partner with and support our local community, as well as celebrate our support of Olympic City USA and its community programs," said Rich Jennings. "Comcast NBCUniversal is a sponsor and proud partner of Team USA, and we hope this grant will allow more kids to share in the Olympic City USA experience and grow and learn more about leadership through this unique opportunity."
The grant will fund community programs and youth engagement initiatives, including sport scholarships for local youth, enhanced Olympic City USA field days and the expansion of community appearances by local Team USA athletes.
"Growing up in Olympic City USA is a really special thing, and this generous grant will allow the City and the Olympic City USA taskforce to continue providing opportunities for local kids to learn the Olympic values of excellence, friendship and respect," said Mayor John Suthers, who accepted the grant on behalf of the Olympic City USA taskforce. "It will also help expand our reach, allowing more kids to share in the Olympic City USA experience through Olympic City USA field days, sports scholarships and interacting with inspirational athletes."
We incorporate volunteerism and giving back at the core of our strategy — not only because it's the right thing to do, but because of the measurable benefits it brings to the business, the employees and the bottom line.
"Comcast believes in the strength of public-private partnerships. Neither the government nor a private company can do it all alone," said David L. Cohen. "The grant we have provided today is a perfect demonstration of that partnership. We want to help Mayor Suthers grow this program and meet the goals of exposing every young person in Colorado Springs to the Olympics and the Olympic movement in some way."
The events that took place in Colorado Springs are just one example of how we work year-round to support and partner with our community organizations to connect people and our communities to what matters most.
During Comcast Cares Day this year, we had around 100 projects in nearly 20 communities across Colorado with more than 5,000 of our employees, their friends and family and the community coming together to make change happen.
[youtube https://www.youtube.com/watch?v=AXMf3DS720c&w=560&h=315]