Women hold just one-quarter of technology and IT jobs and just 5 percent of leadership positions in the tech sector. In fact, the number of women in tech jobs dropped 11 percent between 1991 and 2018.
Yet studies show businesses are more profitable when women are represented in top leadership positions. Among the reasons women are underrepresented in technology include a lack of mentors and female role models in the field.
In Colorado, Comcast is altering this reality with our recruiting initiatives  to  grow and support our female employees – at every level of our company.
As Comcast continues to enhance our powerful Gig network to meet Colorado's growing demand, we have invested over $2.3 billion from 2011 to 2017 in Colorado technology and infrastructure and are focused on building a diverse and inclusive workforce.
THREE DECADES LEADING TECHNOLOGY AND BROADBAND INNOVATION
Carolyn Terry is Senior Director of Engineering for Comcast's West Division. She has 30+ years of experience in telecommunications and broadband industry. While she's built many things over the years – including the infrastructure for digital video and Gig-speed broadband – Carolyn is most proud of the teams she's created and the professionals she has helped to grow.
When Carolyn started as a technician in 1986, she quickly felt like part of the Comcast family. But she remembers feeling like she stood out from the other installers in one regard.
"It was totally male — there were no women in the field at all," said Carolyn.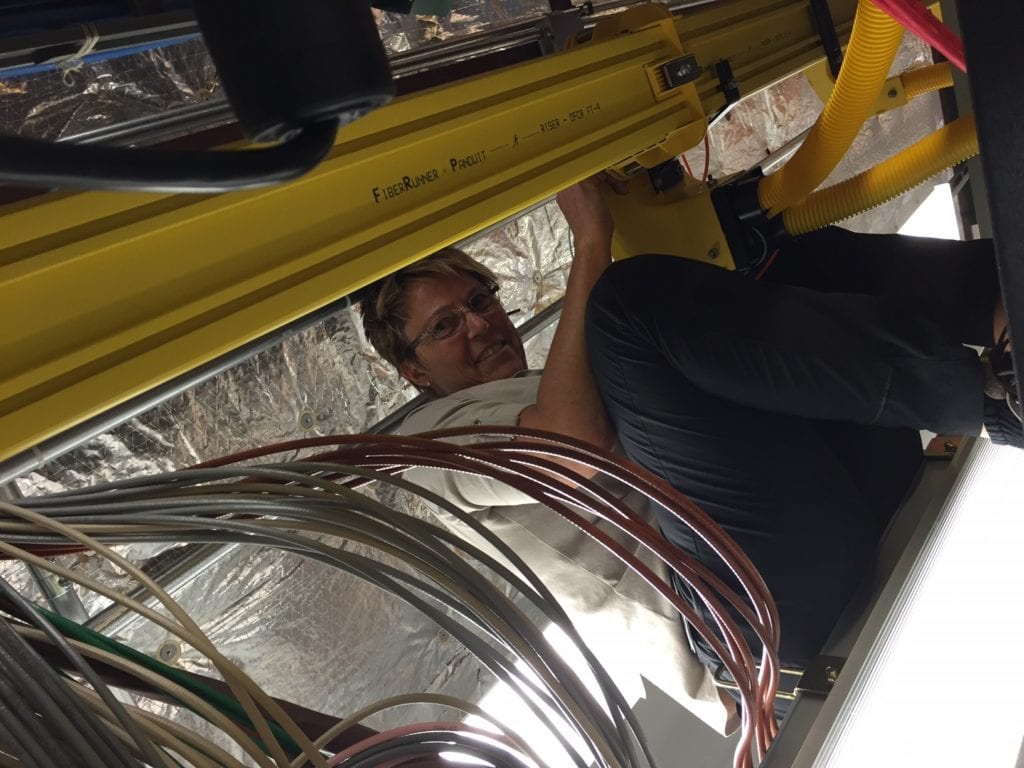 Carolyn Terry working in the field. 
She took this distinction as a challenge, volunteering for the toughest jobs to prove she could handle them. (Growing up with three older brothers fed her competitive spirit.)
Even then, more than three decades ago, Carolyn saw the future possibilities of technology innovation, and the promise of connecting more people with each other and their communities.
She had a vision for building a different kind of network – one which was the envy of the world and included more female technologists, engineers, designers and executives working and leading in the telecommunications and technology industry.
Thanks to the vision, innovation and involvement of role models like Carolyn, today many other women are succeeding in engineering and technology positions at Comcast.
KNOWLEDGE AND PREPARATION ARE KEY – ON THE JOB AND ON HER MOTORCYCLE
One of those women is Bettina Nedel, a technician with Comcast Colorado for nine years.
Bettina came to Comcast after working in construction, so she was used to an all-male team.
"As long as you equip yourself with the knowledge and prepare for any situation, the respect from your peers, male or female, comes quickly," Bettina says.
As a competitive adventure rider who prefers off-road motorcycling, Bettina isn't easily intimidated – and she loves helping other women experience the joy and thrill of the sport. She leads a group of motorcycle enthusiasts called Colorado GS Girls, comprised of women interested in adventure riding, from seasoned experts like Bettina to those just getting into the sport. (The GS stands for Gelände/Strasse, German for off-road/road.)
Incredibly modest, Bettina doesn't readily concede that she is among the top female competitors in her sport. Need proof? Bettina qualified to compete in the 2018 BMX GS Trophy — the "Olympics" of adventure riding. The competition, an eight-day, off-road adventure riding race across Mongolia, included two teams of women and 14 teams of men. Bettina's teammates were women at the top of the sport from South Africa, Europe, Japan, South Korea and Canada.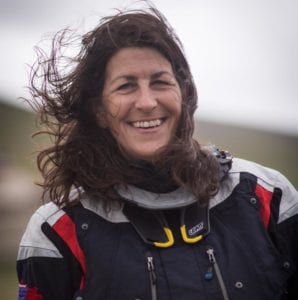 Bettina Nedel in her racing gear. PHOTO CREDIT: BMW Motorrad 
But when asked how her adventure riding and work intersect, Bettina doesn't hesitate: "Having the knowledge and being prepared — it works for me on the job and on my bike.  As long as you prepare and know how to ride on the terrain, you'll be OK. I have the same commitment to knowledge and preparation at Comcast so I can answer any question the customer may have."
Comcast believes that a diverse and inclusive company is a more effective company. That's why we're proud to honor our female employees, leaders at every level, who make our company stronger.
This month, as a nod to Women's History Month, we invite you to do the same.